Book now
Hotel Chelsea House London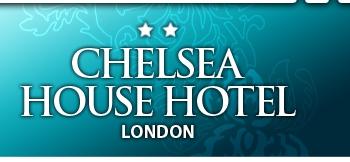 Home > Hotel
Located in London, the Chelsea House Hotel is a cheap accommodation and it is perfect for all those who look for a simple and inexpensive hotel in the centre of the town.

Whether you come for pleasure or business, you will be in the right place if you look for a simple accommodation in the heart of the city.
You will save money and, at the same time, you will find all the services you need and all the major attractions of the city just near you.
We do all best in order to make your journey perfect.

The services of the Hotel are: 24 hour reception comprehensive travel and city information, free Wi-Fi Internet access (customers should have their own laptops, available in the lounge area), free luggage storage, free continental breakfast, International payphone paid, parking (subject to availability).
The Chelsea House Hotel is waiting for you to go and discover London.
Give us your Feedback
Chelsea House Hotel, 96, Redcliffe Gardens - London